-1 minute of battling ropes at 100 waves per minute, double waves (no alternating) 
-Squat and Push Up Mountain, starting at 1 and going up to 10. Must be completed in 10 minutes or less
- Active hang for 30 seconds, feet off ground and keep a long neck (no shoulders up by the ears)
So I was thinking that maybe you might want to give it a try! Up for it?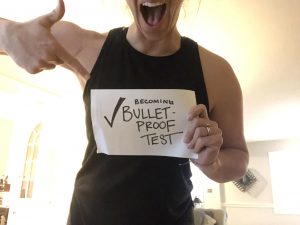 Make sure you post a video or pic on the OSi Online Facebook group.  We'll put each person that shares a pic of themselves completing the test in a drawing to win a Becoming Bulletproof prize!  Post by this Sunday and let us know how it goes!
That's it for now.  Keep being Awesome!