While Cinco de Mayo and Taco Tuesday may have already passed, tacos still remain a bright spot in our current times and we're going to keep riding the taco train. And we just happen to have a foodie friend and taco lover (guest contributor, Kathleen) here to drop some recipe goodness.   
Gone are the days (for the moment) of heading to your favorite taco joint with friends and sipping on a margarita while eating all the free chips and salsa your stomach can handle. (Those chips and salsa are always so good, right?!) Despite the times, that doesn't mean we can't celebrate our love for tacos in style!
In our house, Taco Tuesday is a thing every week and to celebrate Cinco de Mayo this year, we've been enjoying an entire week of 'Taco Tuesday'! Before you ask yourself "why?" you should be asking yourself "why not?!"  Tacos are happiness wrapped in a flour (or corn) tortilla AND you can customize them to make them the tacos of your dreams!  So why not experience that joy every day?!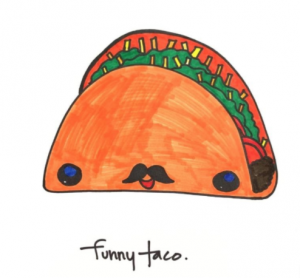 Drawn by me using @artforkidshub tutorial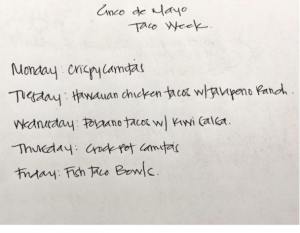 Here is our Cinco de Mayo taco week menu in case anyone else wants to join in on the taco madness!  Not all of the recipes are my own (and credit will be given accordingly) but I have included little customization/modification notes and general commentary about why we love each of these recipes in our house.
If you have any questions, please feel free to find me on Instagram: @thekathleenentwistle
---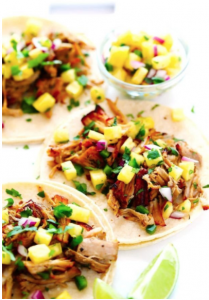 Monday: Crispy Carnitas
My goodness, y'all, you are in for quite the treat. This recipe is bananas! The flavor of the pork from the mojo sauce combined with the subtle spice from the pineapple salsa and the crispy pork-y ends is bound to make your taste buds dance!
Notes: 
Beer or chicken stock alternative – since we grab canned pineapple for the salsa, I use the juice as my liquid for the carnitas

Orange and lime juice – we just use bottled juice that we have on hand; we don't squeeze fruit for this recipe. Squeezing is recommended if you're on a whole30 round.

This is an instant pot recipe but if you don't have one, use your crockpot instead! Sear the pork on the stove top instead and for step 5 do the following: cook on low for 8 hours.

Do not skip the pineapple salsa…it is the BEST! And don't be afraid to use canned, much easier to prep and handle.
---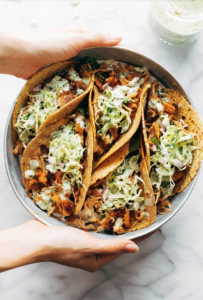 Tuesday: Hawaiian Chicken Tacos
We cannot get enough of pineapple in this house so take what you have left over from yesterday (or pop open a new can) and get ready for this delicious taco recipe. The jalapeno ranch adds a nice kick but feel free to omit and sub with other favorite toppings.
Notes: 
If you like heat, don't remove the seeds and ribs from the jalapeno, we don't.

Don't have sriracha on hand, use another hot sauce.

Doing a whole30 round? Use this

recipe

to make homemade mayo otherwise Hellamans or Dukes gets the job done.

This another instant pot recipe but you can make it in the crock pot as well. For step 2, cook on high for 3 hours or low for 6 hours. 

Shredded lettuce is a great topping for this one!

For the ranch, we blend all of our ingredients with an immersion blender because we don't have a food processor – it works just as good!
---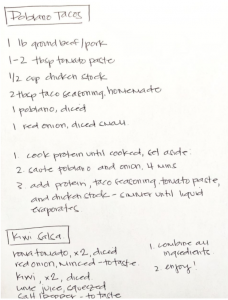 Wednesday: Poblano Tacos
Before COVID, I traveled every week for work and had HelloFresh meals delivered to my hotel. The meat portion of the recipe is an Entwistle original but the inspiration and kiwi salsa came from HelloFresh. Basically, this is your regular ground beef taco recipe taken up a notch!
Notes:
You can use ground beef or pork for your protein. Feeling adventurous, ground chicken or turkey would also work.

I may be the only one but I never use an entire can of tomato paste. I freeze the remainder in 2-ish increments to use another time. You can freeze in an ice tray or sandwich bags.

We make homemade taco seasoning; here is the

recipe

we use. Feel free to use store bought taco seasoning if that's more your jam.

I also like to deviate from my own recipe and add a bit more liquid than noted so all the flavors can simmer a bit longer. 

The kiwi salsa is entirely optional but absolutely delicious – sub with your favorite salsa or leftover pineapple salsa from Crispy Carnitas night!
---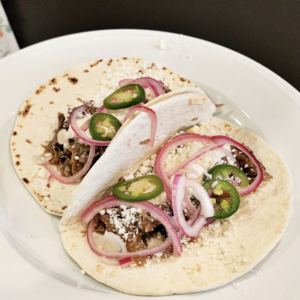 Thursday: Crock Pot Carnita Tacos with Chipotle Cream
This recipe is the perfect mix of smoke and heat. The pickled veggies and chipotle cream are the perfect toppers but feel free to sub with your favorite toppings. The recipe calls for a pork roast but we've always used beef because that is what we had on hand when I first made this recipe.
Notes: 
Don't have pork roast on hand, use beef instead!  We've always made this with beef and it's still delicious!

The heat in this recipe comes from the chipotles in adobo – increase or decrease amount based upon heat preference. I would recommend keeping it in the meat for flavor purposes but omitting it from the sour cream if you're nervous about the heat.

If you have extra chipotles in adobo, freeze them as described above with the tomato paste for future use.

Cotija cheese can come in a wheel or in a bag. Either way, it can be frozen for future use.

If doing a whole30 round, omit sugar in picked veggies; if paleo, use honey instead.
---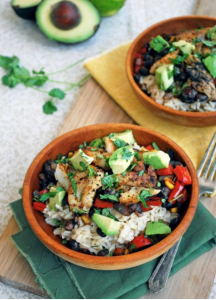 Friday: Fish Taco Bowls
This light dish is a perfect way to end the week! You want to use a sturdy white fish so it hold up when cooking. As always, get creative with your toppings!
Notes: 
Use homemade taco seasoning (recipe above for poblano tacos) or a packet of taco seasoning if you don't feel like going with the seasoning combination noted in the recipe.

We think that cod works best with this recipe but have also made it with tilapia.

Sub the white rice for brown rice or cauliflower rice.

Don't like beans or doing a whole30 round or paleo? Omit them. 

Corn is also a whole30 and paleo no-no so omit if doing a round and add more pepper and onion.
---
We've tried quite a few margarita recipes and this one is our favorite. If you like to enjoy a margarita with your tacos, you'll definitely want to give this recipe a try.  This recipe comes from one of our favorite food bloggers, Primal Gourmet. You can find him on IG (@primal_gourmet) or check out his blog (www.cookprimalgourmet.com). His "low budget cooking shows" in his IG stories are the absolute best!
Margarita Recipe:
2 oz silver tequila
1 oz triple sec
1 oz Italian Volcano organic lime 
½ oz grapefruit juice 
½ oz agave syrup
Add ice to a shaker.

Add all ingredients to the shaker; shake for 30-ish seconds.

Enjoy!
Notes: 
Lime juice – when I found this recipe we only had a bottle of key lime juice so that's what we used. We normally have a bottle of lime juice on hand that does the trick.

Grapefruit juice – we don't usually have this one hand so we've subbed cranberry and orange juice for it. Don't be scared of subsitutions!
---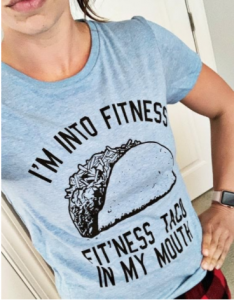 General Notes:
I make some general comments about Whole30 and Paleo substitutions but I am not an expert. If you're doing a Whole30 round or eat Paleo, follow the general guidelines, as appropriate, to make tweaks to remain in compliant. Remember to read your labels.

Tortillas – we tend to eat flour more than corn but use whichever tortilla type you like. You can warm them in the microwave or in the oven. You can also pan fry the corn tortillas to make them into tostadas!

Toppings – cheese, diced tomatoes, diced onions, shredded lettuce and salsa are taco topping staples in this house. Although they may not be noted in the recipes above, we often times have them available for anyone to use. Don't be scared to stack your taco high with toppings!

Cilantro – we don't like cilantro so it is omitted from every single recipe, every time. 

Substitutions – tacos are meant to be fun and enjoyable. If you don't have an ingredient on hand, don't sweat, sub it for something else.
If you have any questions, please feel free to find me on Instagram: @thekathleenentwistle